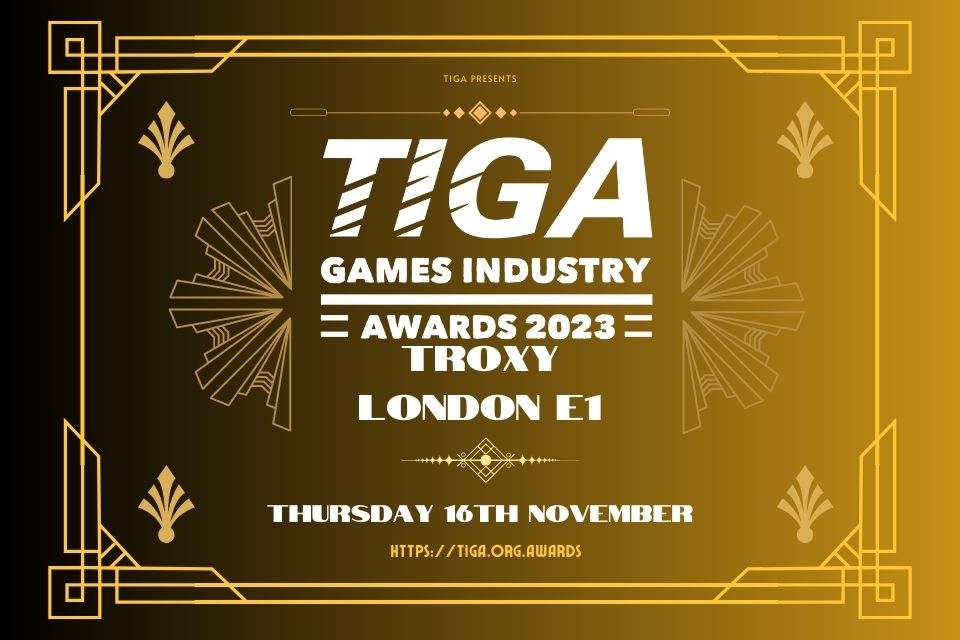 The deadline for submitting your entries for this year's TIGA Games Industry Awards is at midnight TONIGHT (UK time) – Monday, August 7th. Don't miss out!
The TIGA Awards is the opportunity for UK game developers and publishers, educators, technology and service providers to shine.
So be sure to enter to make sure your games, organisations and teams get the recognition they deserve.
Here are our tips on creating a winning entry…
Be Prepared!
Once you enter the nomination area here, you will be asked to provide the following:
Email address
Name
Organisation
Number of employees
Logo (this should be in a PNG/PSD/GIF format and be suitable for use on a white background)
A two-minute video *See below for more information
300 words on Why You Should Win (100 more than in 2022!)
What Are The Categories?
The categories are split into 'Games Awards', which are open to all, and 'Business of Games Awards', which can be entered by TIGA members only. The full list of awards are:
Game Awards (open to all)
Social Game
Casual Game
Educational, Serious or Simulation Game
Strategy Game
Role Playing Game
Puzzle Game
Arcade Game
Creativity In Games Award
Heritage in Games Award
VR/AR/XR/MR Game
Action and Adventure Game
Diversity Award
Audio Design
Visual Design
Best Game as a Service
Business of Games Awards (open to TIGA members only)
Outstanding Leadership Award
Publisher
Educational Institution
Technology Partner or Provider
Best Small Studio
Best Large Studio
Legal Services Supplier
QA and/or Localisation Provider
Recruitment Agency
Art/Animation/Trailer Supplier
Audio Services Supplier
Tax and Accountancy Firm
Technical Innovation
Services Provider
Education Initiative and Talent Development
Employer of the Year 2023 (open to companies who have achieved the TIGA STAR accreditation)
Outstanding Individual Award
Commitment to ESG Award – NEW!!
Commitment to Workplace Wellbeing – NEW!!
Accessibility in Games – NEW!!
Game of the Year
If you'd like to enter any of the Business of Games categories, but are not currently a TIGA member, find out about the benefits of membership, and how you can join, here.
Providing Video Footage
We would recommend providing a two-minute promo video with your entry, as this will help in the judging process. We may use some of the footage during the awards ceremony too, so this will give you a great opportunity to showcase your organisation.
However, we recognise that it may not be possible for everyone to create a video in time for the entry deadline on July 31st.
So, for the following categories, it is not mandatory to supply a video:
Outstanding Leadership Award
Educational Institution
Technology Partner or Provider
Legal Services Supplier
QA and/or Localisation Provider
Recruitment Agency
Tax and Accountancy Firm
Technical Innovation
Services Provider
Education Initiative and Talent Development
Outstanding Individual Award
Commitment to ESG Award
Commitment to Workplace Wellbeing
Accessibility in Games
When supplying video, please note that we need a MOV/MP4 file of no more than 500MB.
The Written Entry
300 words isn't a lot when you're explaining why your game, your service or your organisation deserves to win the award, so be precise. Remember to check spelling and grammar in your submission.
Don't Miss The Deadline!
The entry period closes at midnight on Monday, August 7th, so make sure you don't miss it.
What's Next?
Our panel of industry judges will decide on the shortlist, with the Finalists in each category being announced on September 11th.
The judges will also choose the winners who will be revealed during our prestigious awards ceremony on the evening of November 16th.
Got Any Questions?
Contact Lisa.Carter@mimrammedia.com if you have any questions or feedback.