The UK Video Games Industry is important economically and culturally.
The UK video games industry is important economically and culturally. The UK video games sector is the largest in Europe. Games development contributed nearly £1.5 billion towards the UK's GDP in the year to November 2017, as well as generating an estimated £613 million in direct and indirect tax revenue to HM Treasury. 37,536 work in the games industry/are in jobs indirectly supported by studios, including 13,277 in games development.
Games development is a knowledge industry par excellence. The sector sustains highly skilled, graduate employment. A typical games development studio will have 80 per cent of staff qualified to degree level or above and many studios provide on-going .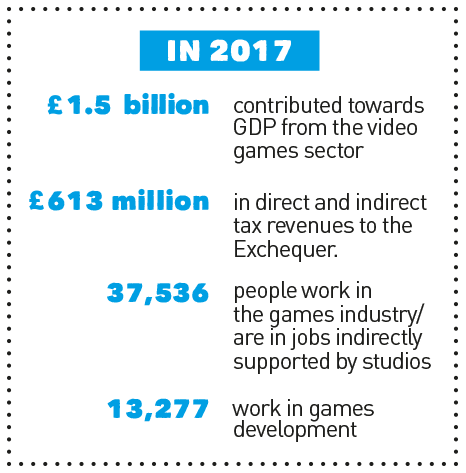 The industry is export focused: 95 per cent of UK games development studios export at least some of their games.
95%
The sector makes intensive use of technology and many studios invest in R&D.
Some of the best performing games IP globally is generated in the UK. Notable examples include the Grand Theft Auto franchise, developed by Rockstar. Other UK studios have produced major games franchises such as Batman and Lego, as well as individual world-class titles such as RuneScape (developed by Jagex) and the Sniper Elite series (developed by Rebellion).
Video games are increasingly embedded in UK culture and society. Games are one of the UK's most valuable entertainment media. The value of digital and physical games sales in the UK reached £3.35 billion in 2017, up 9.6 per cent on 2016, according to the ERA. Games remain well ahead of both video (£2.69 billion) and music (£1.2
Games are played in 7 out of 10 households.
Video games are cultural, audio-visual products on a par with film, television and animation. They draw on artistic disciplines such as music and art, and sometimes involve narrative. Video games also interact with other forms of media, for example, inspiring film, television and music.
The UK games development and digital publishing sector is a success story. The introduction of Games Tax Relief in 2014 – a measure which TIGA successfully campaigned for over seven years – will give the UK industry an important boost and enable it to compete on a more level international playing field against overseas .
Yet too many studios in the UK fail.  Too many studios struggle to grow. Over two-thirds of studios employ just four or fewer people. If the sector is to achieve its full potential and make a significant contribution to UK employment and growth, then we need to do more. In particular, the UK needs to build an environment that is favourable to start-ups and the growth of more sustainable studios.