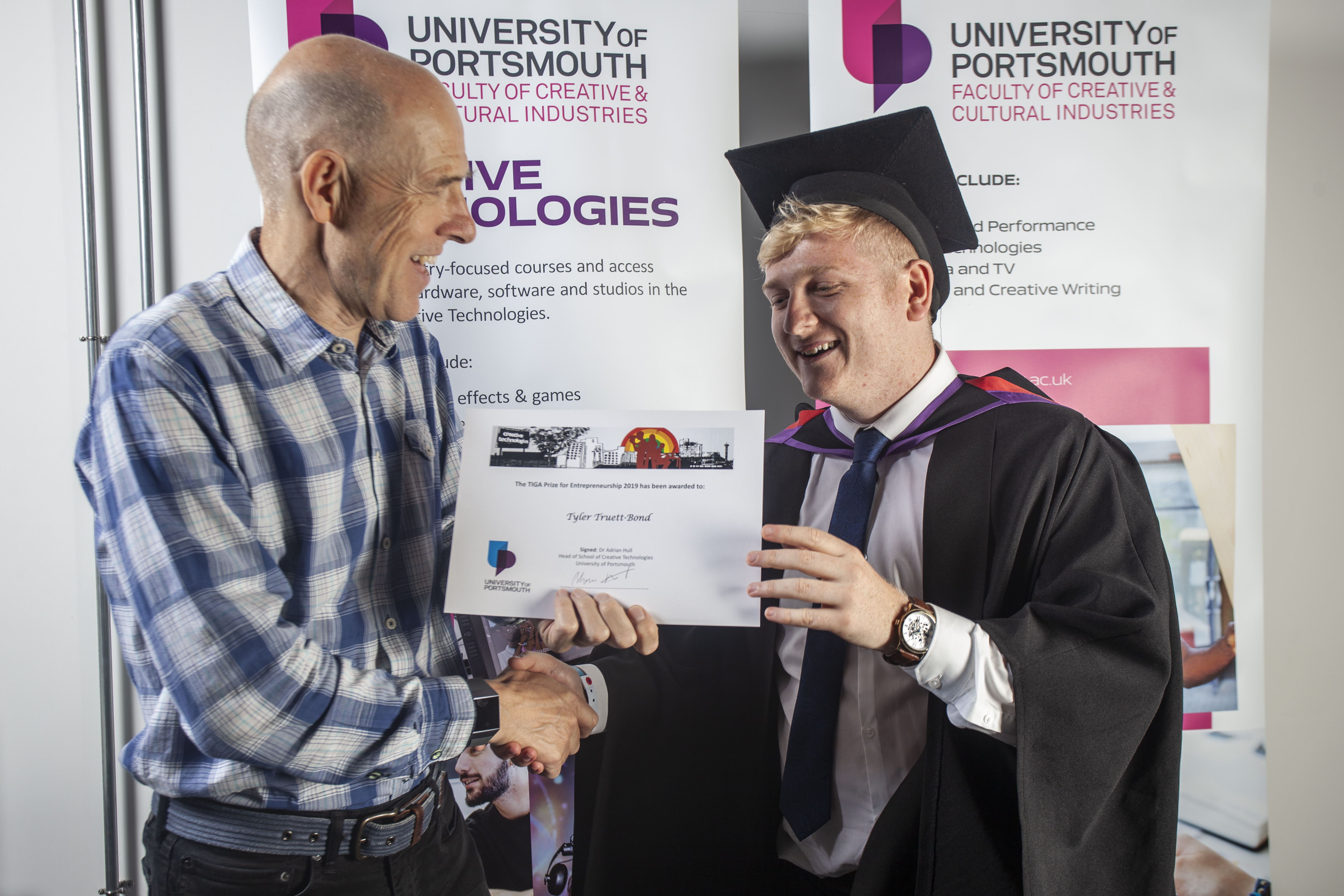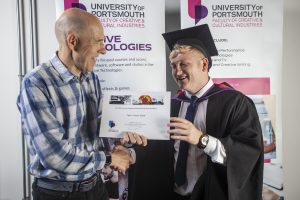 TIGA, the network for video games developers and digital publishers and the trade association representing the video games industry, extends congratulations to the winner of TIGA's Entrepreneurship Prize, Tyler Truett-Bond. The TIGA Entrepreneurship Prize recognises a student who has shown entrepreneurial spirit during their time on their course at the University of Portsmouth.
During his studies, Tyler completed an internship at Intel where amongst other work he was able to collaborate with teams within the company that were heavily involved in esports, working on IEM and other projects. Following the internship and during his final year at University, Tyler, along with business partner Mark Hatter, began to make his dream of starting a business in esports a reality. Over the last eight months Tyler has been developing Akolyte.pro – a professional esports coaching platform which launched earlier this month.
The platform connects new and less experienced players to the best gamers around, creating an environment where newcomers can learn from experienced players. Like traditional sports, a coach through the Akolyte platform will help gamers or gaming teams to train and improve their skills.
Akolyte also aims to 'support the development of skills that help children and young people stay physically and mentally strong, whilst also building their confidence and resilience, and providing the best training possible to make sure that individuals have the best chance to succeed in esports.' The online world of gaming has amazing benefits and access to immediate feedback, but for children and young people, it is important for them to learn how to keep safe whilst they are online. Akolyte aims to 'lead the way in making sure that children and young people stay safe and play esports responsibly.' It has as a consequence developed the Safer Gaming Charter which includes ensuring that all their coaches are properly vetted, making their platform a safe place for children and young people to visit.
Dr Richard Wilson OBE, TIGA CEO, said:
"From everyone at TIGA, congratulations to Tyler on receiving TIGA's Entrepreneurship Prize. Tyler's commitment to turning a passion for esports into a business venture is very impressive and we wish him great success.
"The UK video games industry relies on a highly skilled workforce to compete. This means graduates entering the sector must have industry relevant skills. TIGA's Entrepreneurship Prize and the TIGA Accreditation system are just two ways in which TIGA encourages further education providers to develop the top quality graduates that our industry needs to thrive."
Dr Mark Eyles, Education Advisor to TIGA, said:
"TIGA is always keen to support up and coming entrepreneurs. Tyler displayed the enterprising spirit needed for forging, and expanding, new markets at the cutting edge of the games industry."
Tyler Truett-Bond said:
"I am honoured to receive TIGA's Entrepreneurship Prize. Having been involved in esports both as a player and a professional for 10 years, it is great to now be turning my passion for growing the grass roots aspect of esports into a career.
"Akolyte.pro is now officially open for business and I am very excited to begin connecting gamers with the coaching they need to expand their skills and one day, potentially go pro.
"I started Akolyte because I identified that esports is lacking a proper environment to foster new talent. And with most esports pros ageing out during their mid-twenties, it's important for the industry to keep growing the talent pool of younger players."
Notes to editors
Note that Akolyte.pro is not connected to TIGA in any way.  Akolyte.pro is an esports coaching platform run by the winner of the TIGA Prize for Entrepreneurship. This prize was awarded for Tyler's entrepreneurial skills as judged by his lecturers.
About TIGA
TIGA is the network for games developers and digital publishers and the trade association representing the video games industry. Our core purpose is to strengthen the games development and digital publishing sector. TIGA is intent on building an enduring organisation which continually improves; a business that will make a significant impact on the video games industry and so benefit our membership and the wider economy.
Since 2010, TIGA has won 28 business awards and commendations and has been successfully accredited as an Investors in People organisation four times. TIGA focuses on four sets of activities:
political representation;
enhancing education;
media representation;
membership services.
This enhances the competitiveness of our members by providing benefits that make a material difference to their businesses, including a reduction in costs and improved commercial opportunities. It also means our members' voices are heard in the corridors of power and positively represented in the media.
Get in touch:
Tel: 0845 468 2330
Email: info@tiga.org
Web: www.tiga.org
Twitter: www.twitter.com/tigamovement
Facebook: www.facebook.com/TIGAMovement
LinkedIn: http://www.linkedin.com/company/tiga
For further information, you can also contact:  Dr Richard Wilson, TIGA CEO by email: richard.wilson@tiga.org