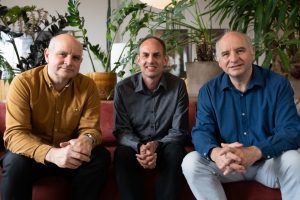 In the second instalment of our TIGA Awards 2021 winners interview series, we spoke to Panivox CEO Philip Oliver (pictured, far left) about what it meant to pick up the Best Technical Innovation award, the need to recognise excellence across the games industry, inspiring peers and what we'll all be talking about in 2025…
What did it mean to you/your company to win a TIGA Award?
To win any award is fantastic, but to win a TIGA award is special as it recognises achievements within our specific field of game development, so just to be nominated alongside our peers was a hugely humbling experience. Gaining attention for our ground-breaking #NoCode RichCast platform was a great boost for everyone in the team here.
Why is it important that excellence in game development/services/education is recognised via awards like this?
We have such a huge pool of talent in this country across all aspects of game development, so it's vital that we have an awards event that both rewards exceptional work in what can sometimes be niche specialisms, but also raises the profile of the industry as whole.
Who are the peers in games and beyond who inspire you?
There are some people who appear to take a lot of credit for being visionaries, but behind the scenes they are often taking credit for their team's work. In the early days when people created games pretty much on their own, it was obvious who those geniuses were… so we always admired Ed Logg (Asteroids, Centipede, Gauntlet), Shigeru Miyamoto (Super Mario Bros, Zelda), Mark Cerny (Marble Madness, California Games, Sonic 2, Crash, Spyro, Ratchet & Clank – oh and lead designer of PS Vita and PlayStation 5!). More recently, we had the good fortune to work with Warren Spector – he's certainly a visionary, but also the nicest guy you'll ever meet!
Outside of winning a TIGA Award, what have been your greatest achievements to date?
Well, I did hold (along with my brother Andrew) the Guinness world record as most prolific 8-bit game developer! But professionally, it must be building up multiple technology-based businesses like Blitz Games and, most recently, Panivox, working with amazing teams on exciting creative ideas, plus also partnering with education to help nurture the next generation of talent.
In 2025 we'll all be talking about…?
Definitely voice as the next mass market games input device and #NoCode development, with platforms like RichCast becoming accepted as having a big future!
Panivox is the creator of RichCast (www.RichCast.com), the only #NoCode editor, player and publishing platform for PC, Mac, iOS and Android that enables anyone to easily create, share and play interactive experiences.
And now, of course, there's the opportunity for all studios and associated companies to nominate themselves and their peers for this autumn's TIGA Awards 2022!
Nominations close on Friday August 12th, so make sure that you enter today!