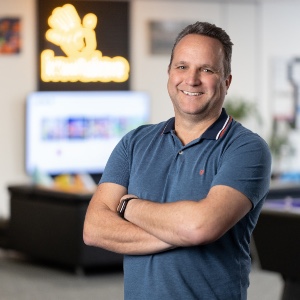 In the fourth instalment of our TIGA Awards 2021 winners interview series, we spoke to Kwalee COO Jason Falcus (pictured, far right) about what it meant to pick up the Outstanding Leadership and Best Large Studio awards, the need to recognise excellence across the games industry, inspiring peers and what we'll all be talking about in 2025…
What did it mean to you/your company to win a TIGA Award?
The TIGA Awards is a prestigious event, so winning an award meant we had to earn it. It was certainly a momentous win. So we were very humbled and excited when we earned not one, but two awards – Best Large Studio and Outstanding Leadership.
It truly meant a lot to us when we saw our hard work recognised and rewarded. It showed we're heading in the right direction, and it's what drives our teams to do more exciting, interesting things. We couldn't be prouder of how far we've come as a company.
Why is it important that excellence in game development/services/education is recognised via awards like this?
From a business standpoint, it shows everyone that we're hitting the right notes with our audiences and making our way to achieving the goals we set out. Additionally, it highlights the underlying talent and quality of work produced by our adept teams to our potential partners. This is great from an industry standpoint because our partners would want to know whom they could be working with.
Outside of winning a TIGA Award, what have been your greatest achievements to date?
I've done a lot in my games career since the 1980s, from managing talented teams to leading companies. And so far, Kwalee has been the biggest highlight in my career for me. We started as a humble studio with just a handful of passionate game developers. Now we're a games studio & publisher employing upwards of 270 people, all of whom share that same humility and passion as we do.
The last three years have been amazing. We've surpassed 900 million lifetime downloads, expanded into the casual games market, and PC & console market. Then we won Best Publisher at PocketGamer Awards last year, which was a rousing moment for everyone. It still pushes us to break barriers and achieve greater success. So it's an honour to represent this company.
Who are the peers in games and beyond who inspire you?
I respect what F2P studios like King have done for the industry. They built some of the first billion-dollar F2P mobile franchises in the very early days of smartphones and have successfully maintained them for years. This helped pave the way for the mobile F2P industry, which is a big focus for Kwalee.
Another inspiration would be David; our CEO; we've been collaborating for a long time. It's amazing to work so closely with someone I trust implicitly. He's a bright and innovative leader with decades of success, who is constantly willing to make bold moves and do things other companies would be afraid to try.
And the teams here at Kwalee are astonishing. So many of them have such creative talent and it's great to see them use it to create fantastic games and bring great things to our company.
In 2025 we'll all be talking about…?
There are so many possibilities: new distribution platforms, Play to Earn, the Metaverse… But for Kwalee, the focus is always on making great games that are enjoyed by millions around the world. And if new and viable technologies/platforms come along that appeal to our players, we will consider supporting them!
Kwalee is a multi-award-winning games publisher and developer based in Leamington Spa, UK, which boasts well over 850 million installs on mobile platforms with games such as Traffic Cop 3D, Teacher Simulator, Draw it, Bake it, Rocket Sky! and Object Hunt.
And now, of course, there's the opportunity for all studios and associated companies to nominate themselves and their peers for this autumn's TIGA Awards 2022!
Nominations close on Friday August 12th, so make sure that you enter today!