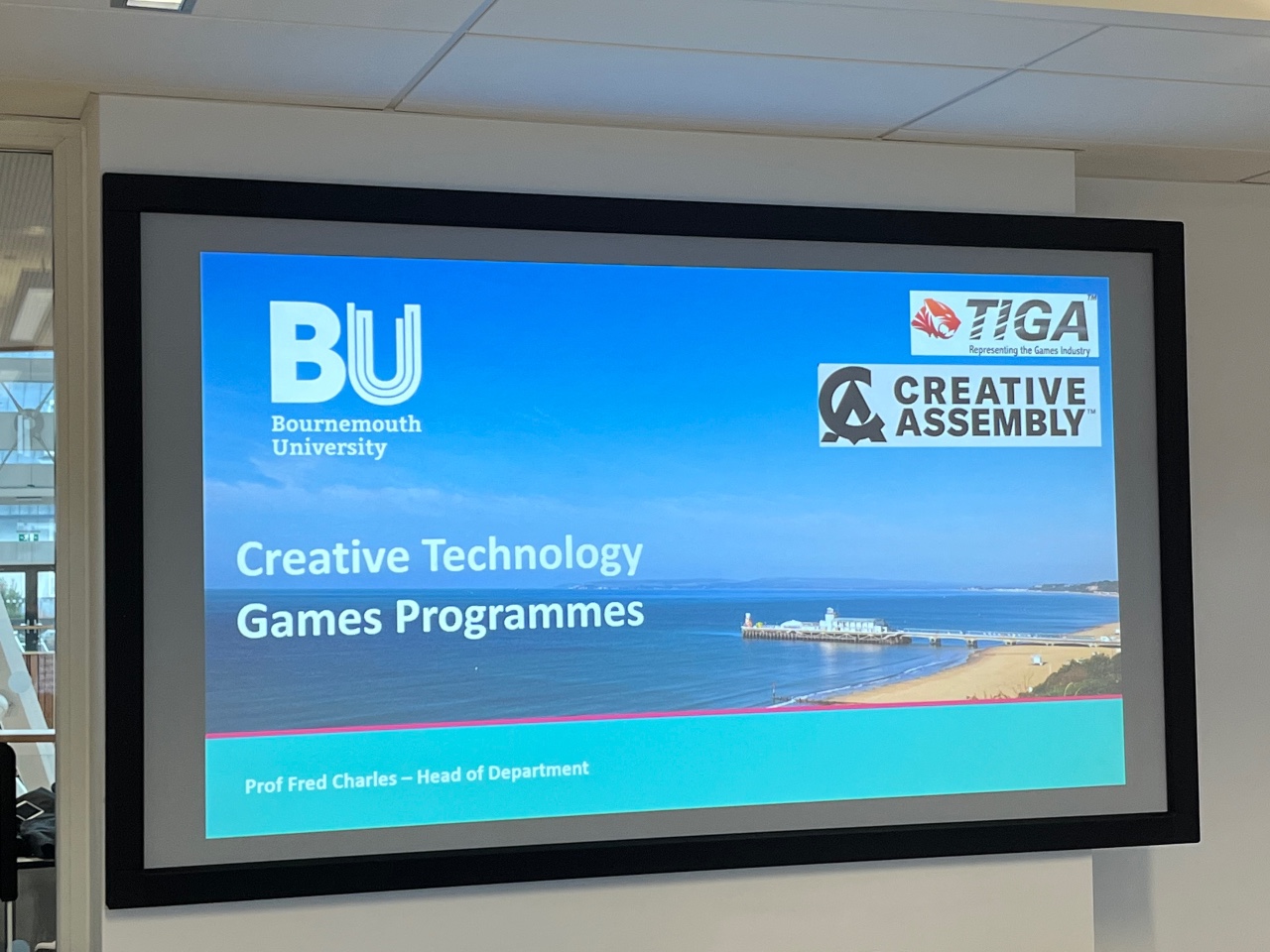 This year's second TIGA Industry and Education Roadshow with Creative Assembly visited Bournemouth University on March 8th, continuing its mission to provide faculty staff and students with first-hand insight into our fantastic industry and the career paths available within it.
For students, the Roadshow is an opportunity to learn first-hand from professionals about a full spectrum of disciplines, helping them nurture the hard and soft skills they will need to succeed in the field of game development.
It also serves as a unique forum for lecturers and games industry professionals to exchange the knowledge and ideas that will help inform the structure of courses tasked with bringing through the next generation of talent.
Bournemouth University's growing games offering is based around two core courses: Games Design, for those who wish to specialise in the art and design aspects of video game creation, including games design and mechanics principles; and Games Software Engineering, covering programming techniques and modern games creation, encompassing AI, physics, game engines and graphics.
As Professor Christos Gatzidis, Deputy Dean of the university's Faculty of Science and Technology, explained in his opening statement, the courses have evolved from an initial 10-15 undergraduate intake in 2009 to a 350 headcount today and fully TIGA accredited status, supported by a teaching staff of 22.
Professor Fred Charles, Head of Department (Creative Technology), added that the key goal of all those helping to deliver the current courses is to create clear journeys and career pathways for students, both during their time at the university and after they've graduated.
There are two clear pillars for this approach. One is for people across different disciplines (especially programmers and designers) to work closely together, where possible, and to develop understanding of each other's roles.
The other is to weave innovation and business development skills into their time at the university, in order to help students see themselves as possible team leaders and even one day potentially establishing their own studios.
The Roadshow at Bournemouth was split into three sections, beginning with a morning roundtable discussion between faculty staff and the Creative Assembly delegation.
The wide-ranging session touched on common themes for both parties, including how disciplines are grouped together, understanding specialist vs generalist, the importance of honing soft skills when working in a team environment, mentoring and what characteristics stand out most when hiring graduate talent.
After a networking lunch, the event delegation reconvened in one of the university's lecture theatres, where the student cohort had the opportunity to hear directly from Creative Assembly staff, who offered specialist guidance across disciplines including Programming, VFX, Art, Animation, Design and Production.
From there we segued into the third and final session of the day, which saw students and Creative Assembly staff break out into two smaller groups for an informal Q&A, culminating in portfolio reviews.
Dr Richard Wilson OBE, CEO at TIGA, said: "TIGA has a key role to play in bringing our best academics, students and development talent together in open forums for mutual benefit, so I'm delighted the second Industry and Education Roadshow was such a well-attended and successful event.
"I would like to thank Fred and his team at Bournemouth University for planning the day's agenda, chairing proceedings and hosting everyone, the Creative Assembly team for contributing their invaluable time and expertise to create such a lively and productive forum and, of course, the students who took part as we all collectively look to make the UK the best place in the world to make video games."
Emma Smith, Director of Talent and Social Impact at Creative Assembly, said: "The Industry and Education Roadshow series is a fantastic way for the games industry to engage with both faculty staff and students at a leading university in games, which we are proud to support as part of our award-winning Legacy Project outreach programme. Many thanks to Fred and his students for making us feel welcome, and we look forward to sharing knowledge in both directions going forward."
Professor Fred Charles, Head of Department (Creative Technology), at Bournemouth University, said: "This fantastic opportunity by TIGA to foster discussions between Creative Assembly staff and our department's games lecturers was an enormous chance to create an open forum for Q&A around the latest status of the games industry. These fruitful discussions have already helped with the next stage of our games curriculum development, as we embark on creating an extra undergraduate games course and starting our first Master's course in games. Finally, the smaller group sessions with our students have helped them greatly to better understand what their prospects are towards finding the industry jobs which best suit their skills and knowledge."
To find out more about career opportunities at Creative Assembly, visit https://www.creative-assembly.com/careers
To find out more about the games courses available at the Bournemouth University of Portsmouth, visit here: https://www.bournemouth.ac.uk/study/courses/bsc-hons-games-design-foundation-year-option
And here: https://www.bournemouth.ac.uk/study/courses/bsc-hons-games-software-engineering-foundation-year-option
To find out more about TIGA University Accreditation, visit https://tiga.org/education/tiga-university-accreditation
Gallery