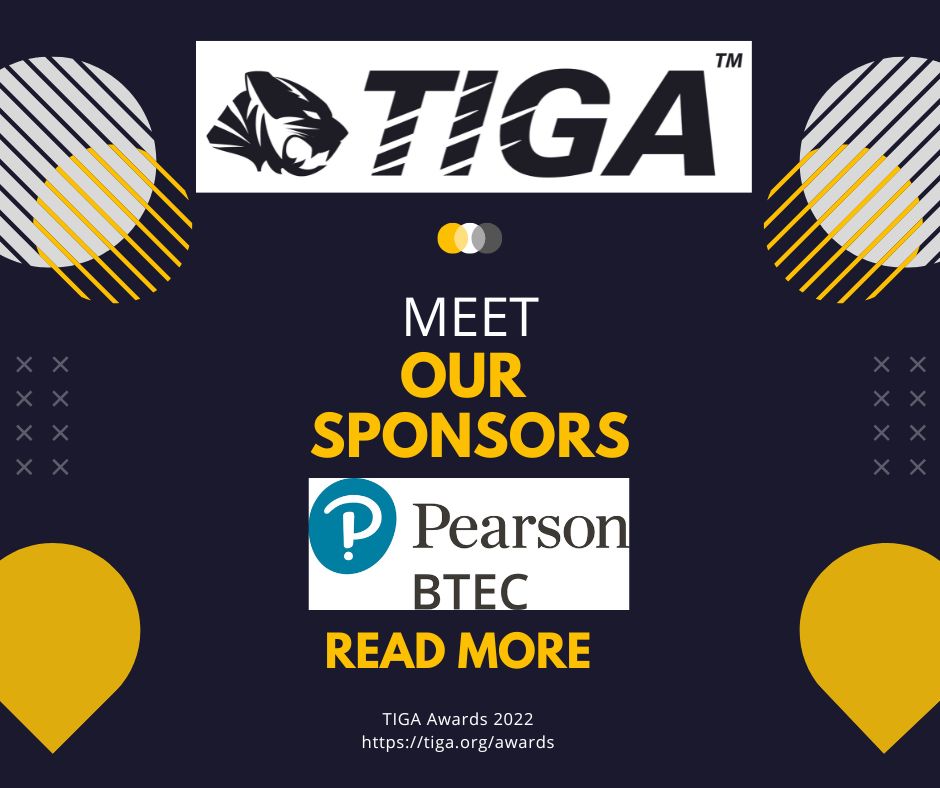 The TIGA Awards – which celebrate game developers, educators, technology and service providers – couldn't take place without the generous support of our sponsors.
This year's event takes place on Thursday November 10th at the prestigious Church House Westminster, providing an evening of celebration.
In this series of articles, we throw the spotlight on our supporters, showcasing their work and their thoughts on sponsoring the TIGA Awards 2022. Here's Pearson…
Pearson is once again proud to be sponsoring the 2022 TIGA Games Industry Awards. In the past few years, Pearson and TIGA have worked closely together to develop a fantastic accreditation and membership programme to FE centres delivering BTEC qualifications in Creatives, IT and Esports, strengthening the awareness of these sectors and helping learners establish routes in the industry.
Pearson works closely with industry experts to provide qualifications and training to support people to access careers in this important and thriving industry. A number of Pearson's BTECs support routes into employment in the sector, offering high-quality, career-focused qualifications grounded in the real world of work, giving learners the knowledge and skills employers and universities are looking for:
BTECs in Creative Media offer qualifications in games design and development
BTECs in IT and Computing offer qualifications in programming and development for games
BTECs in Esports offer learning strategies in coaching, producing events and marketing for esports. The Esports industry is projected to generate revenues of around $1.384 billion in 2022, with forecasts predicting that figure will reach $1.86 billion in 2025.
Pearson College's visual effects academy, Escape Studios, also offers undergrad, postgrad and short courses in Visual Effects (VFX), Game Art, Animation and Motion Graphics.
"We are thrilled to continue our work with TIGA to bring awareness of the industry to our centres and our learners. With the market being worth over $100billion worldwide, it is imperative that we are providing our learners with the skills, creativity and passion to enter an industry that is only going to continue growing," said Donna Ford-Clarke, Pearson.
With 31 categories, the Awards uniquely recognise excellence in games development, business and education, celebrating the achievements of both small and large games development studios. They combine the expertise of a judging panel of industry professionals with a public vote for the 'Game of the Year.'
Our thanks to Pearson – and a reminder to all that tickets and tables are now on sale for the Awards. Click here to book yours now as they are limited.