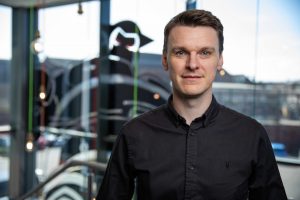 In the first instalment of our TIGA Awards 2021 winners interview series, we spoke to Atomhawk MD Tim Wilson about what it meant to pick up the Best Art/Animation/Trailer Supplier award, the need to recognise excellence across the games industry, inspiring peers and what we'll all be talking about in 2025…
What did it mean to you/your company to win a TIGA Award?
It's great to be recognised for our ongoing commitment to quality. We also got a very cool trophy for the cabinet!
Why is it important that excellence in game development/services/education is recognised via awards like this?
The TIGA awards are a fantastic celebration of success from across the UK gaming industry. They shine a spotlight on established British success stories, the infrastructure that supports them and also the next generation of talent.
Who are the peers in games and beyond who inspire you?
StudioMDHR (Cuphead) are inspirational because love, effort and craft are the very things that makes their games successful.
Outside of winning a TIGA Award, what have been your greatest achievements to date?
Opening a studio in Vancouver, holding an exhibition of our work in a public museum and creating one of the most popular training courses on ArtStation's learning platform.
In 2025 we'll all be talking about…?
Technology that hasn't been invented yet! And Pokemon.
Atomhawk is the games industry's go-to partner for ideas that move from concept to completion. Its colourful pool of creativity enables it to achieve extraordinary feats that would be impossible alone. They bottle that lightning, building whole worlds of wonder from even just a single thought to make the unbelievable, believable. www.atomhawk.com 
And now, of course, there's the opportunity for all studios and associated companies to nominate themselves and their peers for this autumn's TIGA Awards 2022!
Nominations close on Friday August 12th, so make sure that you enter today!